OUR TEAM
We value our team the most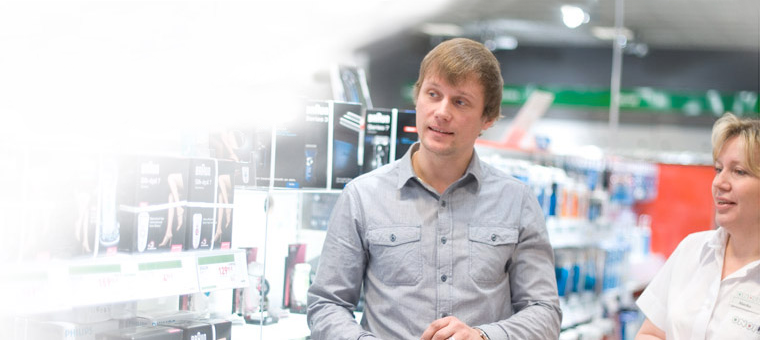 Our team is our key value and resource.
AbeStock employs 60 people. Strong team spirit, shared vision and work towards common goals are cornerstones of AbeStock team efficient performance. AbeStock consists of 5 sales and marketing divisions, whose managers are responsible for purchasing, sales, trade marketing support and efficient use of resources.
International SMD
International SMD or the International Sales and Marketing Division is the newest of AbeStock's 5 divisions, which was established in 2011. International SMD distributes brands that AbeStock represents in all three Baltic markets. The division is managed by Dmitry Žmuds, who before joining AbeStock had 12 years experience in sales and marketing organisations of Gillette, Procter & Gamble and Carlsberg Group in the Baltics, Russia and Poland. Dmitry has an MBA degree from Riga Technical University.
Product portfolio of International SMD:
BRAUN (shavers, epilators, hair care, home appliances, beauty products, health products, clocks)
DURACELL (batteries, battery chargers, torches, light sources)
ORAL-B (electric toothbrushes, oral hygiene)
ARIETE (home appliances)
DIM (men's underwear, lingerie)
Contact us:
Dmitri Žmuds
Phone: +371292 42507
E-mail: dmitry.zmuds@abestock.ee
Vio Trading
Vio or Varjatud Ilu Osakond (Department of Hidden Beauty) was established in 1996 as a department for wholesale of underwear and tights. One of the first partners was Levante. The cooperation contract with the French underwear manufacturer Dim was signed in 2003. The product selection of Vio Trading has kept growing and includes many well-known and popular brands. The division has been managed by Marin Ige since 1996. Marin is a graduate of the Faculty of Economics of the University of Tartu. .
Product portfolio of Vio Trading:
LEVANTE, L´ELLEDUE, DIM, BELLINDA, BOLERO (hosiery)
DIM, SHOCK ABSORBER, PLAYTEX, WONDERBRA, AFTER EEDEN, PIERRE CARDIN, NOTTINGHAM, SIMPLE ME, LADIES PERFECT, NATURANA (lingerie, men's underwear)
DIM KIDS, LILY DOLL, TEENS (children's underwear)
MELISSA BRAUN, BLUE NUIT, MARY WHITE, NUIT SECRETE, LADY SELENA; SELENA SECRETS, HARVEY JAMES (nightwear, loungewear)
LINA PINK, BILLY BLUE, LENNY SKY (children's nightwear, children's loungewear)
DIM, AICON, NATURANA, CBK BEASHWEAR, DEEP INSIDE (beachwear, swimwear)
FREEGUN (underwear and clothes for youth)
Contact us:
Marin Ige
Phone: +372 6505 563
E-mail: marin.ige@abestock.ee
Safo Trading
Safo Trading was established as an independent sales unit in 1996. The company was named after AbeStock's own brand SAFO and its main activity was import of household chemicals. In 2009 the company started marketing the paper products of Horizon Tissue. In 2014 brands handled by previous G Trading were added to its portfolio. Küllike Mats has been managing Safo Trading since 1996. Küllike graduated from the Faculty of Chemistry of the Tallinn University of Technology with a degree in Food Technology.
Product portfolio of Safo Trading:
SCOOBY-DOO, SENZA, STARWAX, KAPO, HANSA CANDLE, DAISY, AVEA, YPLON, BLICK, NOVA, SURCARE, PLANET CLEAN, SPRINGFRESH, KIDO, SMILE, RINGUVA, SOLAR, PUHAS LOODUS, ORTO, ORTOMED, PUHAS KODU, VITO, LIMPA, PLIX, VIKS, SPONTEX, CALYPSO, FROSCH, TOFIX, RORAX, TUBA, EMSAL, ERDAL, YPMEN, ACTIFF, SUPER POWER, COBRA, BONARIA, PALOMA (household chemicals, convenience goods)
FROSCH, PLANET CLEAN, SURCARE (organic products)
DURACELL (batteries, battery chargers, torches, light sources)
ARIETE (home appliances)
SCARLETT (home appliances, beauty products)
PHILIPS, PILA (light sources)
HENKEL (construction goods)
METYLAN (adhesives, tapes, moisture absorbers)
PRITT (office supplies)
Contact us:
Küllike Mats
Phone: +372 6505 551
E-mail: kyllike.mats@abestock.ee
T Trading & Drinks Division + Salestar
T Trading coming from the word Toit (food) focuses mainly on marketing the products of Nestlé. The division is managed by Raivo Kokmann. Raivo is a graduate of the Faculty of Civil Engineering of Tallinn Polytechnical Institute.
Product portfolio of T Trading:
FELIX, DARLING, FRISKIES, ONE, GOURMET GOLD, GOURMET PERLE (pet food)
NESCAFE, NESQUIK, MAGGI, MIVINA, LION, KITKAT, AFTER EIGHT, BONPARI, CINI MINIS, COOKIE CRISP, CHEERIOS,  FITNESS, FITNESS FRUITS, FITNESS JOGURT,  CORN FLAKES, NESTLE MUSLI BARS, BLA BAND, SCHNEEKOPPE, NUTRISUN, MECKLENBURGER, RÕNGU MAHL, OSHEE, PERGALE (food products)
NAN (baby food)
Contact us:
Raivo Kokmann
Phone: +372 6505 565
E-mail: raivo.kokmann@abestock.ee
Drinks Division including Salestar is AbeStock's newest division deals with various brands of beverages, food and pet goods. Since 2018, the division is headed by Kaimo Salumets, who has extensive experience and has run 6 companies over the years, having seen companies through the eyes of both the manager and owner.
The product portfolio of Drinks Division + Salestar:
THATCHERS, BIRRA ITALIA, WYCHWOOD, MARSTONS, VORMSI, MAISON LE STAR, MENESTRELLO PROSECCO, AMICONE PROSECCO, VILLA LOREN, LA GONDOLA, COPPIERE CHIANTI, MASSO ANTICO, PRATELLO, TINAZZI, LAGOSTA VINHO VERDE, SIMONSIG, POUNAMU, INSIGHT, LITTLE BEAUTY, BRAASTAD, KUNGLA PALTINUM NORDIC VODKA, BOBBY'S SCHIEDAM DRY GIN (alcohol)
SAN BENEDETTO, AGROMONTE, RISELLA, BACI, MONDELEZ, BORJOMI, PAULIG, SAINT AGUR, JACOBS KRÖNUNG, CAPRICE, FINN CRISP, LOODUSVÄGI (food products)
STERN, SERA VIPAN (pet food)
Contact us:
Kaimo Salumets
Phone:+372 5647 4010
E-mail: kaimo.salumets@abestock.ee